Each Hot Wire model comes in a variety of versions and extras to suit every sound, taste and budget.
Depending on the sound request we design the bass with the appropriate woods and electronics. We can also take into account special neck dimensions. We are open to all changes in detail.
For the desired sound and feel we offer different neck variations: Thru, Bolt-on or set-in
Bolt neck, one piece or multi-strip, glued on fingerboard with 21 frets

Neck thru, multi-strip, glued fingerboard with 24 frets

The back of the neck is matte for better playability

The neck is generally maple, with optional mahogany or hornbeam stripes

The fingerboard is made of rosewood, pau-ferro, maple or ebony
We use selected tone woods for the desired sound characteristics.
Depending on the desired sound we make the body of swamp ash, alder or mahogany. When bolt-on neck, the body is usually made of two parts. The full-length neck uses lateral body wings. We can add a hardwood top of your choice, this not only looks very noble, but also gives your sound that certain something.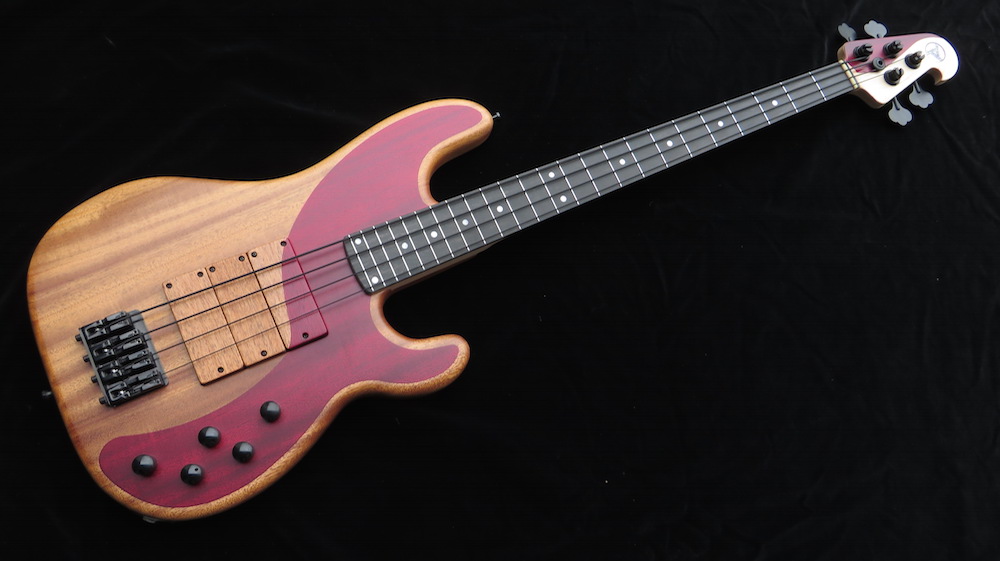 The right finish brings out the wood to its best advantage
Depending on the construction and the woods used, a special surface treatment is required to protect the wood and also to make it look good. The basic version of alder comes in a natural matt finish. Basically everything is possible: high gloss, special colors, metallic, oil wax finish, vintage nitro finish, also with aging.
Converting the string vibration into an electrical signal, and already in passive mode our W-bucker Pumps out a huge sound.
Various coil wirings (serial, parallel, etc.) are possible by arrangement. If the W-Bucker sounds too fat, you can also get Funderbucker Soapbars, a J-Set or a PJ-Combination. The "Motherbucker" pickup has two Stacked J pickups in one housing, plus a three way switch. That means: The Inlaw with two Motherbuckers has a total of four pickups, all designed as stacked humbuckers. For stage and studio this equipment offers all the vintage sounds of the Fifties, Sixties and Seventies as well as enough possibilities for own sound creations. Without background noise.
Aktive or Passive? Sound processing through filters
The great EAST sound control from England, with active bass, treble and parametric center controls, plus a passive tone control, refines the set pickup combinations, from the hardest P-Funk to the deepest Reggae blubber, the crispy Miller to the singing Jaco - everything is possible here!
For ease of use, Noll's three-band tone control with active bass, treble and parametric center controls has proven to be optimal. In passive operation there is still a tone control. Alternatively, we also like to install Glockenklang, use EMG or make it purist passive - the sound comes out of the wood anyway!
Tuning stability from the machines down to the bridge
Hipshot tuners ensure reliable tuning. The bridge also comes from Hipshot. Various variations are possible. Available in the colors Chrome, Black and Gold. Alternatively, we also use bridges by Omega (Badass), ETS, Gotoh and Göldo.
More strings for an augmented tonal spectrum
If the bass has more than four or five strings, no problem. Six - or even seven-string we can do - or just three!
The hardwood top as a sound enhancer with a great look
On request, there is a selected top on the body, which additionally refines the sound - and looks great! Eight millimeters thick, a Walnut top favors the mid-singing fretless tone, a quilted maple top takes the brilliance of the slap forward. We call it "Supertop" and always have a variety of precious hardwoods to choose from.
No frets - round tone: Jaco sends his regards
Every Hot Wire model is also available as Fretless. Woods, Pickups, Electronics: We know exactly what it takes to build a great Fretless.
The instrument is shorter, the tone is more direct: Headless makes sense
We can also build any model as a headless. Pros: The bass is shorter, easier to carry. In no way top-heavy! The sound is more direct. Disadvantages: strange looks? Everything takes getting used to.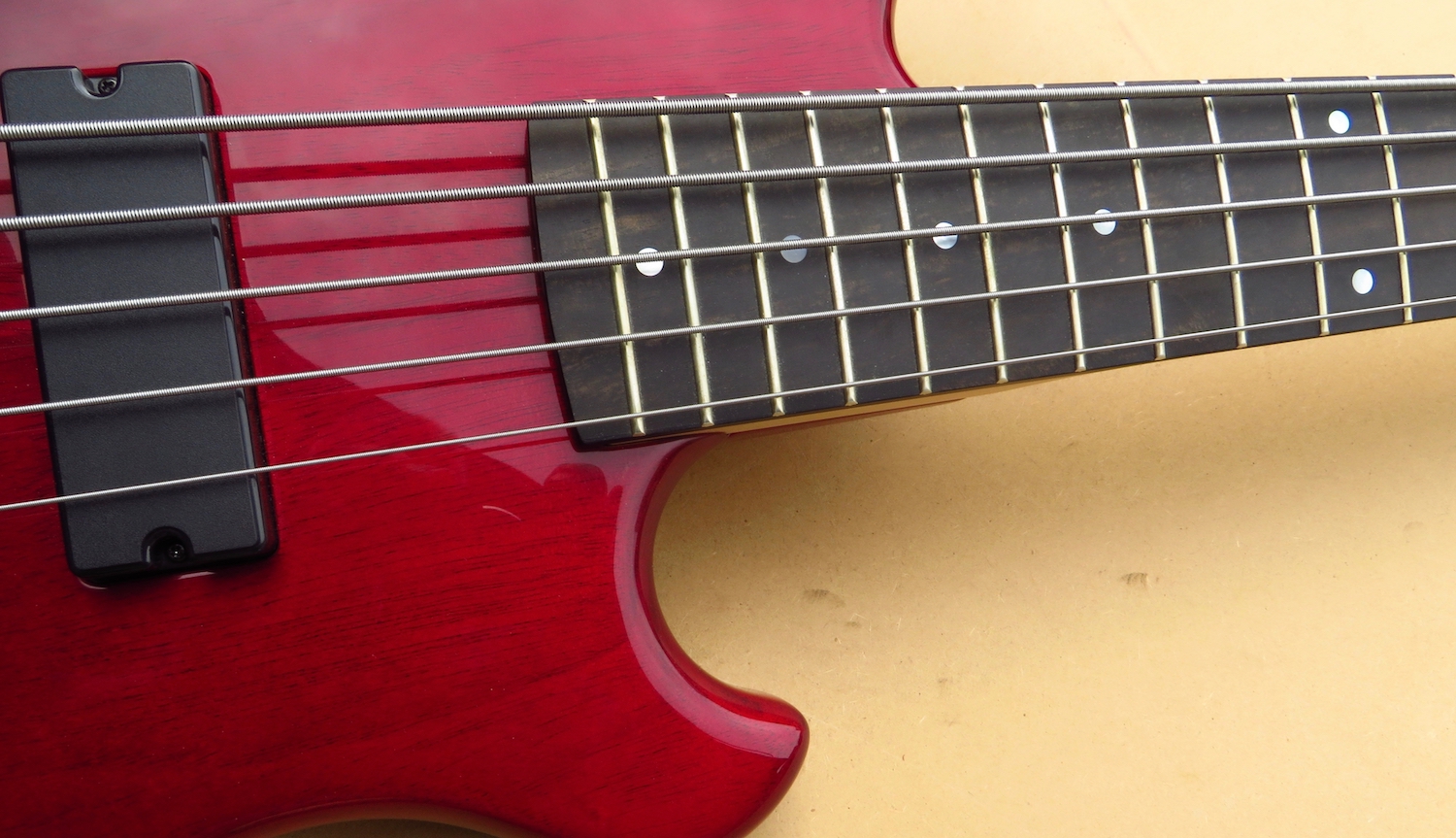 The right string length for your playing feel
The "sounding string length" is the distance measured from the nut to the bridge. This is an important part of the desired sound and the desired playing feel! We have:
Long Scale 864 mm / 34 inches - the most used scale with the familiar sound and feel
Medium Scale 820 mm / 32 inches - a sound with twang for fast solo licks! For the soloist, but also great for people with short fingers!
Long XXL Scale 914 mm 35 inches - Extra long brings a tight sound with thundering low B - most do not realize that the neck is here a little longer!

Short scale and other string lenghts on request.