Medium Scale is intended for bassists who struggle with long-scale basses.
When playing a Medium Scale, the ambitious bassist notices that the instrument is easier to get along with, that it has a comfortable weight and that there are no compromises in the sound. What's it all about?
With small hands and short fingers, a medium scale bass is much easier to play. Instead of 86.4 cm, the medium has 82 cm of vibrating string length - long enough to produce a rich low E, and short enough to guarantee a super comfortable feel.
The 82 cm string has more pressure and is easier to play. And if wood, hardware, pickups and electronics are of high-quality, you get a great tone. We can supply any Hot Wire model as a Medium Scale model. With an E-string that makes you feel good!
The Hot Wire Medium Bass with its massive body and slender neck is the basis for an adult sound. The player selects the woods for the desired sound: swamp ash, alder or mahogany for the body, a maple, rosewood or ebony fingerboard on the maple neck. Finish according to customer requirements.
Plus hardware from Schaller and / or Hipshot, and for pickups and electronics everyone can choose exactly what they need for their sound. Extra wishes like special neck width and narrow string spacing are gladly fulfilled.
The medium is a groove tool for the all-rounder, and in the right hands, in turn, it is the ideal playmate for the bassist, who loves fast passages, tapping escapades and solo work. Here is the solo tuning A-D-G-C to fire melodic phrases in the style of Stanley Clarke. As a piccolobass (tuning E-A-D-G), the medium comes into play in guitarist regions.
The medium Inlaw has a 50/50 body, front is swamp ash and back is alder, in between a thin layer of tulip wood. This results in a real fat tone over all frequencies, clearly and clearly cutting thru on stage or in the final mix.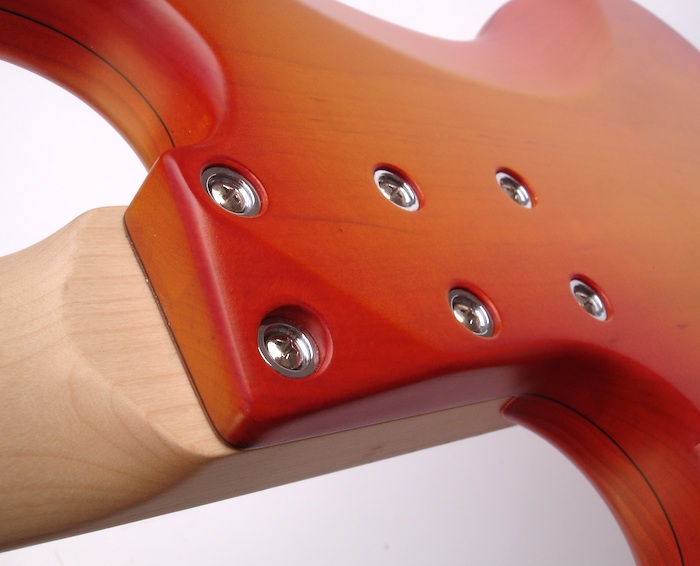 We bolted the 24-fret maple neck six-way to the body and sculpted it out for easy access to the high notes.
For the fat sustain a Badass Bridge is used. The strings are led through the body, so you can use normal long scale strings.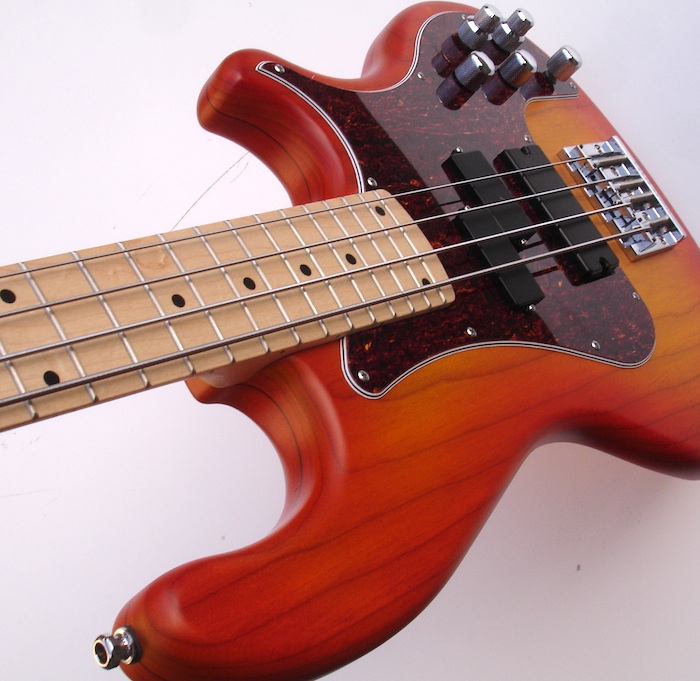 For a traditional look, we have mounted a Tortoise scratchplate. The matt finish color is Sienaburst. The Hot Wire P and Soapbar pickups are powered by East 5K tone controls. So you can fulfill any sound request.
HWB Medium Body - alder, swamp ash, Khaya or 50/50
Finish - Matt or hi-gloss
Neck - maple, rosewood or ebony
Neck Width at nut - 40 mm
Neck Width at 12th fret - 57 mm
Pickups - Hotwire P and Funderbucker
Electronics - East Uni-Pre 5K
Machines - Hipshot Ultralite
Bridge - Hipshot String Spacing - 19 mm or 17 mm
Weight - app. 3,8 kg
Scale - 82 cm
If it is well built from high quality parts, it will sing. Our Medium FL has a solid mahogany body, a select rosewood fingerboard on the maple neck, a Hotwire Soapbar pickup with serial-parallel wiring. Best sound with Pyramid Nickel strings.